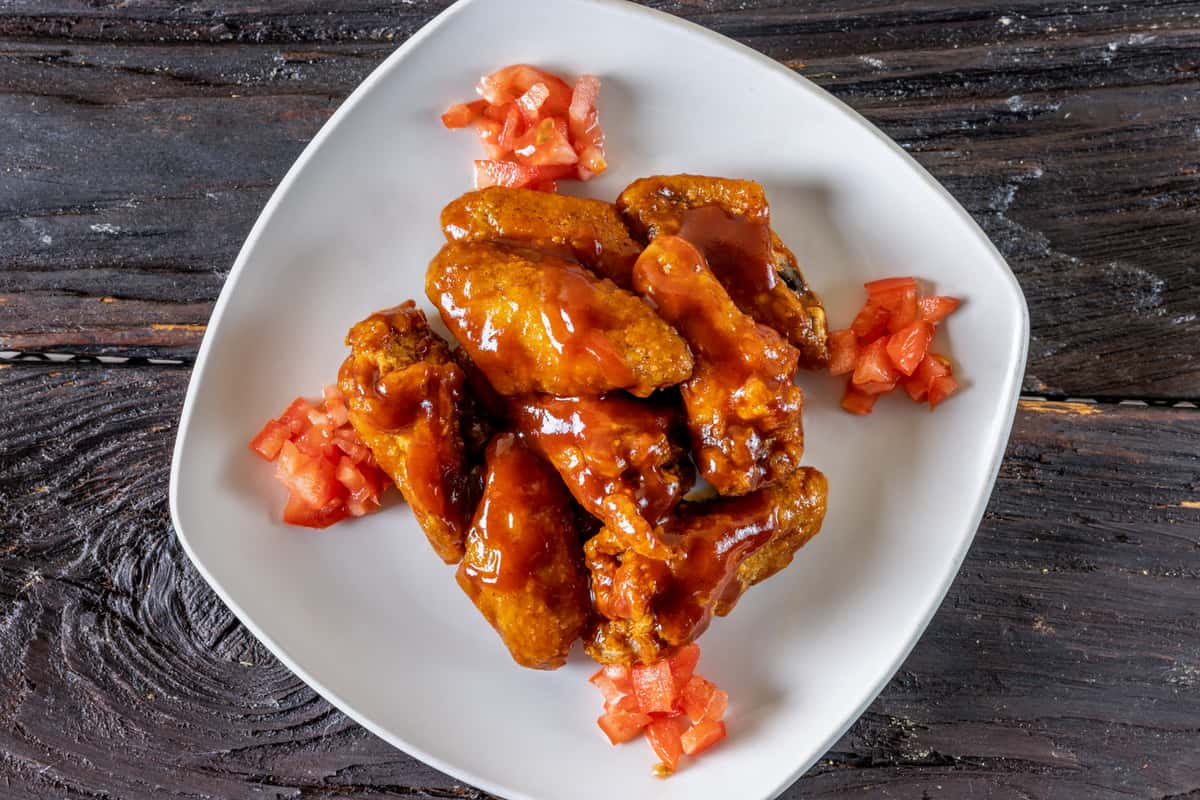 Buffalo wings
Origins of Buffalo Wings
Every good chicken wings restaurant or sports bar needs a good buffalo wing option on their menu. Ambassador Fish & Chicken is no exception with its outstanding buffalo wings or hot buffalo wings combo options. These wings have become a favorite at many festive gatherings such as football games, New Year's Eve, and many other get-togethers throughout the year.
Many wonder how the delicious Buffalo-style wings came to be. There are at least two versions of how the Buffalo Wing recipe came to exist. Many stories contain the same basic facts and one of them dates back to 1964 at the Anchor Bar in Buffalo. It is said Teressa Bellissimo, the co-owner of the Anchor Bar in Buffalo, New York first served these spicy wings to her son's hungry friends.
How Buffalo Wings Came To Be
On a Friday night in 1964, Teressa Bellissimo's son, Dominic came into the Anchor Bar. He came in with a bunch of friends who were reported to be very hungry and asked his mother if she could feed him and his friends. Going into the kitchen, Teressa found a bunch of already cut-up chicken wings she normally would have thrown into a stock pot for soup.
Teressa fried up the wings, doused them in a spicy sauce, and served them to the hungry men along with a side of blue cheese dressing and a stick of celery. The men absolutely loved these wings and began spreading the word of what they had been served at the Anchor Bar. Once the word spread, people began coming to the bar and asking for these same spicy wings.
Another version of the origin of buffalo wings is tied to Teressa's story. The owner of John Young's Wings & Things is said to have invented the buffalo wing recipe when he began selling wings fried whole in 1963. He topped these whole-fried wings with a spicy-tomato-based condiment.
John was a friend of Teressa's husband and many believed he might have eaten her wings and passed the idea on to his friend John. John moved out of Buffalo, New York in the late 1960s and began operating food trucks in Illinois along with a wing shop in Tulsa, Oklahoma. When he returned to Buffalo, New York in the 1980s, the Anchor Bar had established itself as 'the name of the game' for buffalo wings.
While the origins of the buffalo-style chicken wing may be debatable for some, one thing for sure is you cannot find a better-tasting version of them than those served at Ambassador Fish & Chicken.
Where to Find the Best Buffalo-Style Chicken Wings
Ambassador Fish & Chicken has been serving the best-tasting shrimp, fish, and chicken wings since 2005. We are located in the Newark and East Orange, NJ area and recently expanded our outstanding services to Irvington and Jersey City. All of our food menu items are created with the finest ingredients and do not leave our kitchen unless we would serve them to ourselves and our families.
Ambassador Fish & Chicken offers you some of the best anywhere-tasting buffalo wing options. You can choose between hot, mild, or BBQ sauce depending on your preference, and can choose between many different sized orders. If you are dining alone, or want to order separately from your group, we have 6-piece, 12-piece, or 18-piece options to fill your needs.
If you are hosting a celebration, Ambassador Fish & Chicken can also serve up family or party-sized portions of these tasty wings. You can also add other food items to your list to meet all guest requests, such as our Southern Fish, Shrimp, or the original style wings served with sauces of your choice.
If you are looking for the best chicken and fish, Ambassador Fish & Chicken is the place to start your quest. Our foods are the best in the area and we guarantee you won't be disappointed.