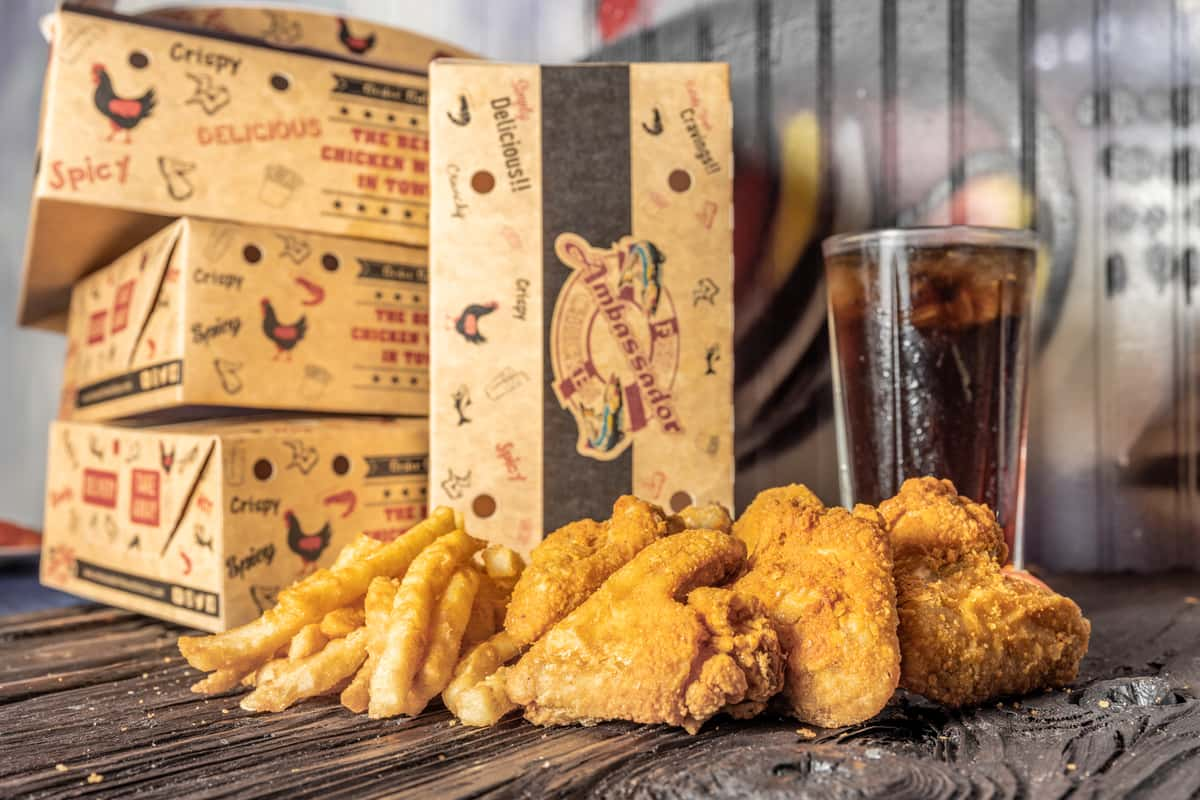 The best chicken wings in town
The best chicken wings in town
What's Different About Ambassador Fish and Chicken
What's different about Ambassador Fish & Chicken is our delicious dining experience that is unmatched by any others in the area. We offer you the best tasting shrimp, fish, or wings and not only serve great foods, but you receive exceptional service as well. Customers have appreciated not only are great foods and service in the Newark area since 2005 but also how we've supported the community. Through our success, we have been able to grow and will now also serve you in East Orange, Irvington, and Jersey City.
Making great food and your life easier is our mission. Ordering from Ambassador Fish & Chicken is simple and fast. When you place an order online, you schedule the time it will be convenient for pickup. All orders served, whether through our take-out, in our dining area, or through our catering service are made with only the finest ingredients. We serve no dish; we wouldn't eat ourselves or with our family.
What You Can Find at Ambassador Fish and Chicken
It is the commitment of Ambassador Fish and Chicken to use only quality ingredients in all our dishes. These are some of the mouth-watering experiences you will find:
Chicken Wings

Ordering chicken wings at Ambassador Fish & Chicken presents you with several choices. If you are dining alone and light, you may prefer our choice of 2, 5, 6, or 10 wings only. From these choices, you can move on to larger orders with our family-sized wings, party-sized, or if you're celebrating an event, we have catering-sized orders that can include 200, 300, 400, or 500 wings depending on your guest list. Customers who have ordered any size wing choice love our seasonings and how crisp they are. Check out our reviews and learn how delicious, perfectly fried, and tasty our wings are served. We not only serve in a variety of sizes to fit our customer's needs and appetites, but we also offer Buffalo Wings, Hot Buffalo Wings, and BBQ choices.

Fish

If you are hungry for fish, Ambassador Fish & Chicken is a must-go-to choose. You will find order sizes to please everyone. Choice of fish includes CatFish Fillet, Tilapia Fillet, Whiting Fillet, Fish nuggets, and more. These incredible fish choices can be requested by themselves, or make a dinner out of them and include an order of fantastic french fries and a cold can of soda.

Chicken

If you love Southern Fried Chicken, then you have to check out Ambassador Fish & Chicken. Our Southern Fried chicken tenders can be ordered by themselves or made into a dinner. Dinners are served with great-tasting french fries or rice, coleslaw, bread, and a cold can of soda.
Ambassador Fish & Chicken Offers More
The fun doesn't stop with fish and chicken at Ambassador Fish & Chicken. We also serve incredible shrimp dinners or single-serving shrimp plates. There are five jumbo shrimp you can enjoy by themselves or with a side, or add them to a dinner and get tasty french fries or rice, coleslaw, bread, and a can of soda. There is also a platter of 12 medium shrimp for your choice, which can also be added to a dinner with the same french fries, coleslaw, bread, and soda.
If you are looking for a lighter meal, Ambassador Fish & Chicken also offers wonderful fresh salads. From our simple Garden Salad to a Fried Chicken Salad, the Fried Shrimp Salad, or our unique Corn Salad. These salads can be eaten as a meal, or as a side, either way, you are going to enjoy each and any one of these choices.
Great food and choices just keep getting better at Ambassador Fish & Chicken as we also have a list of sides you can add to any item. Some of the fantastic sides include onion rings, macaroni salad, cajun rice, macaroni & cheese, and more. While you're deciding on the best choice for your meal, don't forget to save room for some delicious dessert. Try our Velvet cake, Carrot cake, Sweet Potato cheesecake, or Strawberry cake.
What are you waiting for? Head out or call for delivery today. You will not be disappointed with any choice at Ambassador Fish & Chicken, in fact, you'll want to plan another visit as soon as you finish one of our fantastic dishes.